In-Person, Art Course for Girls & Women
Botanical Watercolour for Beginners
Has your daughter expressed a love and talent for art?
Would you love to help her develop her skills with a 'real-life' Teacher
(ie. not another online class)?
Affordable, in-person art courses are hard to find especially for home-educated children and post pandemic.
It's a challenge  to find a suitable curriculum that stays within the limits of our beautiful deen.
And if you're not arty yourself, or just havent been able to develop your own skills (I personally think everyone has an artist inside of them, waiting to be developed!) you probably have no idea where to even begin…
What brushes, what paints, what paper?
Should you buy pans or tubes? Sable or synthetic (what even is that?!) How do you mix beautiful colours from just a few 'boring' pigments, or how to control water to get stunning effects. What paper? Hot or cold pressed, weight, stretched, gummed or block?
Learn the fundamentals of watercolour & sketching from a professional, female Muslim Artist
Not sure of the benefit of art?
Art increases confidence and reduces anxiety
Botanical art brings your closer to Allah
Art improves your focus and develops maturity
Art is a skill that can be used in many careers
Art is relaxing and a great emotions regulator
Art is a timeless skill and hobby
Art improves mental health
If you want your daughter (or you!) to...
Develop her talent and skills
Have fun in like-minded company
Take part in a regular in-person class
Have individual art guidance & instruction in a small class
Benefit from real human interaction (!)
Learn from a, practising and experienced female Muslim teacher
Expand her interests and abilities
Learn something new
Be inspired by the magnificence of Allah's nature
Experience sensory-filled goodness ♡
Learn a skill for life
and make friends!
Contact me (Mariya) 07930 858 071 to reserve her space now
Fridays, 10.00 – 11.30
Start date: 7th January
Erdington 
Girls & Ladies 9+
£9/session (paid in full) + £15 student-owned art kit

Salaam, I'm Mariya, mum of 4, home-educating since 2009, and a Watercolour & Handlettering Artist! I love to teach and have lots of experience running clubs and activities for children, like my popular STEM & Creative Lego Clubs.
I also own a small business (support small & local!) selling inspirational prints for intentional families. I create bespoke and meaningful pieces too, with my Original Art Experience.
I have just one daughter alhamdulillah who has developed a love for art and watercolour like me. And we can't wait to welcome you into our 'learning room come Art Studio' to share our passion and expertise with you.
Get ready for cosy, intimate art classes with new friends and shared pleasures ♡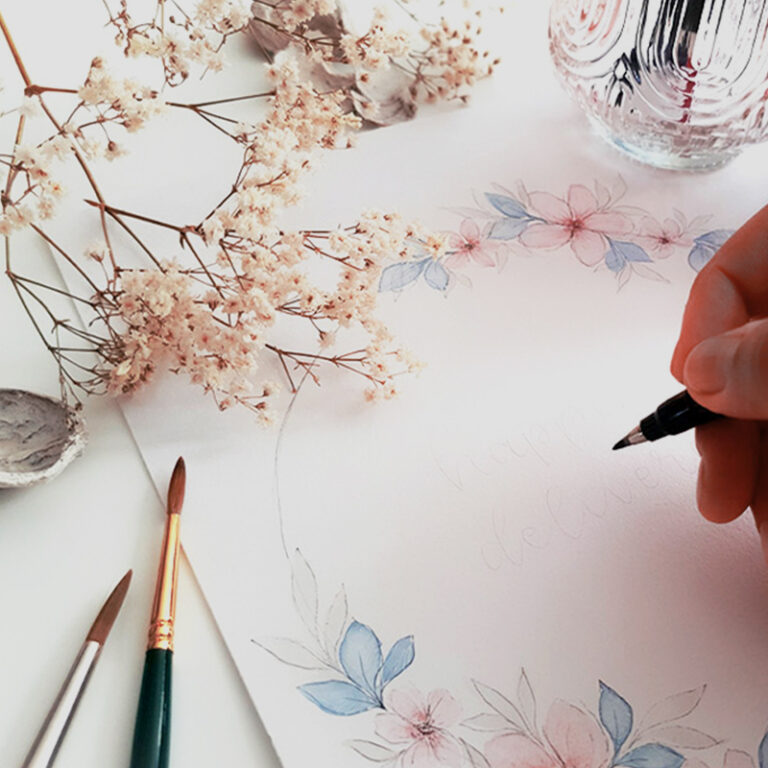 P.S. I'm a trained NLP life coach too...
So you can relax, paint and enjoy a mental health boost & detox too! Yay!
Contact me (Mariya) 07930 858 071 to reserve her space now
What's in the Student Art Kit?
Each student will receive a complete watercolour artist's kit for them to use throughout the course and keep permanently, taking it home after each session.
Each Artist's material in the kit, has been carefully chosen to balance between quality, performance and price.
A Daler Rowney Aquafine paint set has been specifically selected for its professional pigments and foundational colour pallete, supporting the student in creating a huge array of colours from a the most simple – a key watercolour Artist skill.
Daler Rowney Aquafine pallete plus brush
Uni Pin 0.4 fineliner
Artist sketchbook
Multiple sheets of A4, A5 & A6 watercolour paper
A selection of watercolour brushes
Steadtler 2H drawing pencil
Faber castell Artist eraser
White gel pen for highlights                                                                                   
Contact me (Mariya) 07930 858 071 to reserve her space now